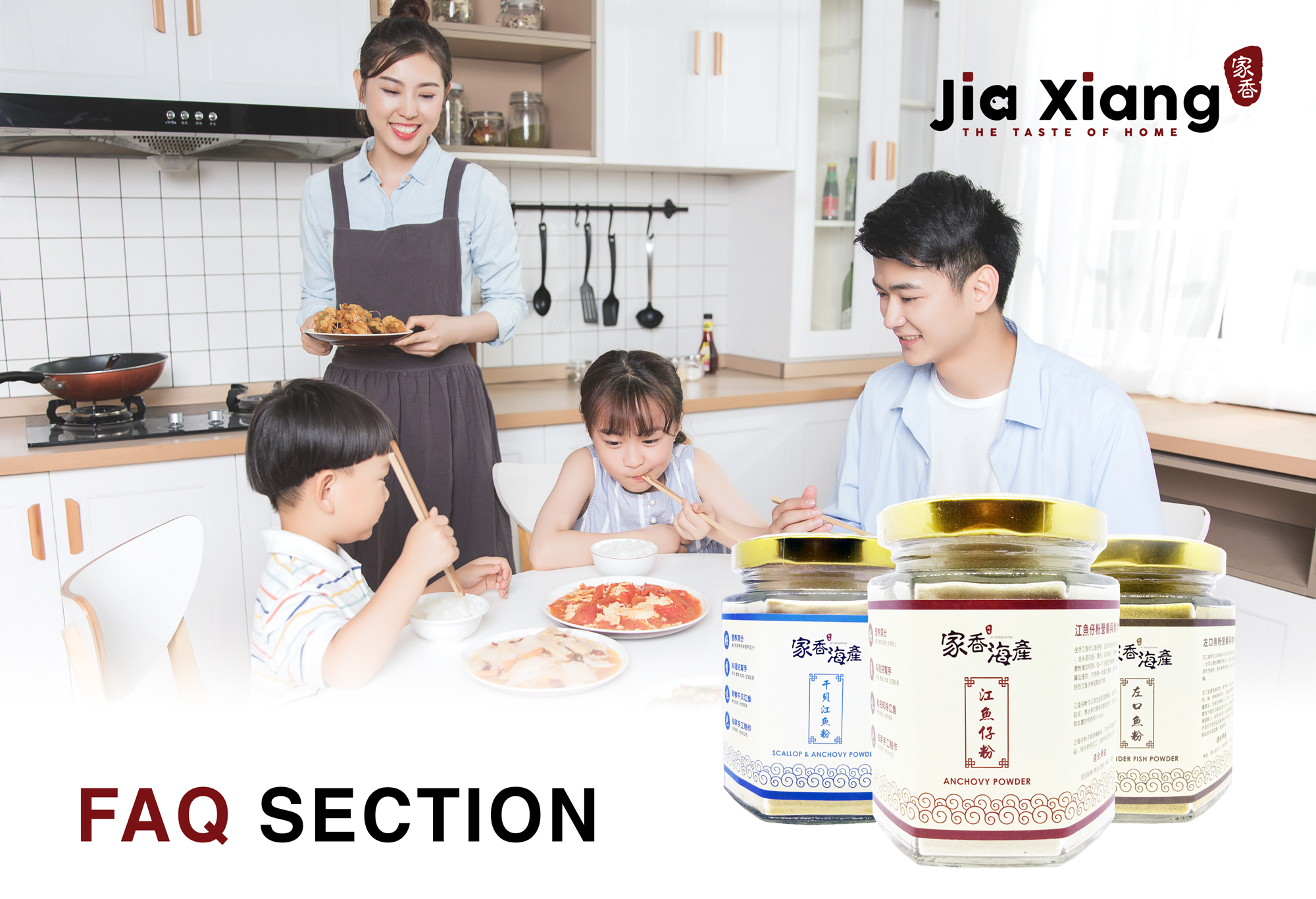 --- Product Questions ---
Q1: What is the shelf life for your products?
A1: All our products are freshly made and it has a one year shelf life. We recommend customers to keep in the fridge at all times. Remember to use a clean and dry spoon for every usage.
Q2: Is your Anchovy, Scallop and Mushroom powder salty for babies?
A2: It is not salty and suitable for babies because we used 100% pure raw materials. No added salt, no MSG , no additives. During the process, cleaning and washing has been done several times to make sure it is not salty. However, if you are looking for more salty taste, we recommend you to look out for "with added sea salt" version in our product range.
Q3: Is the Anchovy powder suitable for my baby?
A3: In general, anchovy is suitable for everyone except for some who is allergy to seafood. The anchovy, being an oily fish, is rich in omega-3 fatty acids, well known for its ability to lower levels of triglycerides and cholesterol in the blood. It is also an excellent source of protein, with a fish of average size providing around 9g of protein and only 55 calories.
Q4: How much Anchovy, Scallop or Mushroom powder should I use in my cooking?
A4: Everyone has different taste buds. If you are new to this, we recommend 1/2 tea spoon to 1 tea spoon. You may add more according to your liking to taste.
Q5: What type of grade raw materials did you use in your products?
A5: At Jia Xiang, we only use high grade quality raw materials, for an example high quality anchovy, premium shiitake mushrooms and premium scallops. And most important, we use fresh supplies at all time.
---- Delivery Questions ---
Q1: Do you ship overseas?
A1: Currently we are only able to deliver within Singapore only. For Malaysia customers, please access http://www.jiaxianghome.com
Q2: What is the lead time for delivery if I order today?
A2: For local delivery in Singapore, we aim to achieve next day delivery. However the general lead time is within 1-3 business days.
Q3: Is there any express delivery available?
A3: Yes, we offer same day express delivery at a surcharge of S$18. Contact us if you need your items urgently.
Q4: What type of delivery mode are you using now? What if there is no one at home during delivery?
A4: All our packages are delivered by courier company. It will be delivered to your door step. If there is no one at home, you can instruct the courier to leave the parcel at your doorstep or riser.
Q5: Can I buy your products at any offline stores?
A5: At the moment, it is only available at our online stores. We are reaching out to offline retailers soon. will update more information at the Store Locator.
--- Wholesale Question ---
Q1: I am a retailer and I love your products. Can I retail at my shop?
A1: Thank you for your interest. We welcome retailers onboard. Please email us at sales@jiaxianghome.com.sg and we will discuss further.